Parquet flooring is back, and herringbone and chevron are 2022's most popular patterns. A classic rule of interior design tells us that every surface from floor to ceiling is an opportunity to add a textural element. Flooring patterns like herringbone and chevron add interest and dynamism to your space while still maintaining a classic aesthetic.
Never out of style
When we say classic, we mean it. Herringbone patterns date back as far as the Roman Empire, and chevron could be found in ancient Greece in 1800 BC.
The decision of which one to go with will be influenced by your space: we encourage a large enough room to appreciate the full effect. Chevron looks best in a rectangular room; the long straight lines have the effect of drawing you in while lengthening the space. If the pattern can repeat at least once, you get the full effect of the chevron look.
Herringbone—which is Iron River Surfaces' most commonly requested upgrade—has a wide variety of applications, like hardwood floors and inlays, tiled entries, tiled showers and backsplashes, patterned stair runners, and even carpeting. For a tile application, if you are looking to emphasize the pattern, choose grout that contrasts the tile colour.
As far as flooring is concerned, you can't go wrong with luxury vinyl. It mimics the look of hardwood with added durability and ease of installation. Herringbone and chevron are complex patterns, so if we can save you money with a durable product, why not?
Luxury vinyl: the details
My friends at Divine Flooring provide great flooring options, and we love the look of their products in custom builds and renovations.
Colours
With a special order, you can get herringbone or chevron vinyl flooring in any of Divine's Voyage II colours.
Does the pattern look realistic?
With patterns resembling rustic oak, rustic pine, and vintage painted wood, Voyage II conveys a bold look. Herringbone or chevron with a straight plank have both up-to-date style and a timeless feel. Divine's enhanced bevel detail, which is the same process they use on hardwood, creates the most authentic look while providing superior strength and integrity.
Quality
The Voyage II straight plank collection is 7 millimeters thick and the chevron is 8.5, both with a 20 millimeter wear layer. Many other products have a wear layer of 6 millimeters, which is not as suitable for active families, pets or high-traffic zones like entranceways or corridors.
Installation
Voyage II features a "drop lock" profile on the length and ends, for an easy and fast floating installation method. A floating install saves you labour costs and eliminates nails and staples.
What about underlay?
Underlay adds cushion and sound reduction to your flooring, and it comes standard on Divine's vinyl planks. This cutting-edge closed cell foam is inherently waterproof, and impervious to mildew, mold, rot, and bacteria without the need for added chemicals.
Are they in stock?
Divine stocks every colour and collection in their Calgary bulk warehouse, and the purchasing team ensures orders are placed within a suitable time frame to avoid running into stock issues.
Why vinyl is right for you
These floors will perform and look beautiful for years to come, and Divine's warranties back that up.
It's sustainable, floor score certified, and is free of phthalates.
There's a diverse range of textures and patterns to choose from.
They have matching moldings and accessories such as custom stained vents, which give a seamless and coherent look.
Here's just a few examples of how parquet patterns can elevate your space.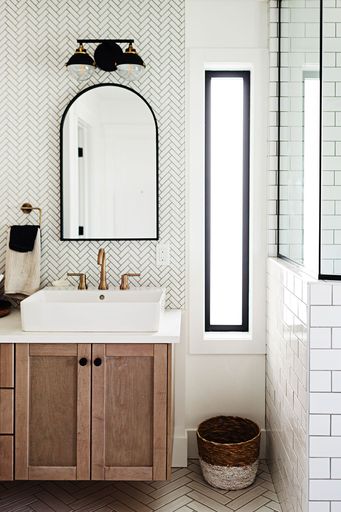 To sum it up, Canterbury recommends luxury vinyl flooring in herringbone or chevron patterns. If this sounds like part of your dream home, give us a call!
Our thanks to Iron River Surfaces and Divine Flooring for their help providing imagery and information for this article.