We all want unobstructed open spaces, but once we have an open floor plan, what do we do with all that space? It can be a luxury and a curse at the same time. In the past, our walls divided spaces; it was clear where one space ended and another began. The question that gets asked a lot is, how do you define separate areas without using walls? You don't want your home to feel like a vast hotel ballroom, you want it to feel like a home – your home.
The first step is deciding on the functional interior design layout within your open space.
For more on choosing a layout, see What You Need to Know about Layout.
One area will naturally flow into another; however, you will want to define each space as its own by adding character and style. How can you do that?
It depends on your needs, budget, and whether you are open to small or large changes, you have many different options:
Build permanent structures like pillars, ceiling heights or install doors
Add or change semi-permanent features like flooring, paint, wallpaper, panelling, lighting
Add or change temporary items like curtains, decor, furniture, rugs
Permanent Structures
Ceiling Tiles
Apart from the pillars, what else defines this kitchen space? The dark square created by tin ceiling tiles visually separates the kitchen area from the rest of the space. The tiles compliment the hand-scraped floor and also add character and visual interest – reminding us of a simpler period of time.
Varying Ceiling Heights
The rustic beams on this raised ceiling frame the living room space. Where the ceiling drops down, it indicates the beginning of the nook and kitchen areas.
This is another example of using varying ceiling heights to define separate areas. Here, a vaulted ceiling framed by dark steel define the living room from the dining and hallway.
Wood Panelling on the Ceiling that Extends Down the Wall
In this example, the wood ceiling does a few things, it adds character and warms up the space, it defines the space as a living room, and because it was installed on the wall as well, it drops the ceiling down to a comfortable height. This creates a cozier feeling. The room is still grandeur, however, not cavernous.
Hidden doors
Sometimes there is a need for private spaces within an open space. How about adding pocket doors that can recess out of the way when not in use like in this photo? And this is another example of using a ceiling to define the space: in this case the bold, unique plaster ceiling detail is complemented by the decor to bring formality and sophistication to the living room.
Semi-Permanent ways to Define an Open Floor Plan
Changing Flooring Direction or Pattern
Here, the foyer is separated from the living room by installing the hardwood differently. The same hardwood was used throughout to add cohesiveness, while using a herringbone pattern to amp up its character.
Switching up the Flooring in an Open Floor Plan
In this foyer, the homeowners also used a herringbone pattern, however, in this example the white tiles are framed by hardwood flooring, which defines it from the rest of the house.
Lighting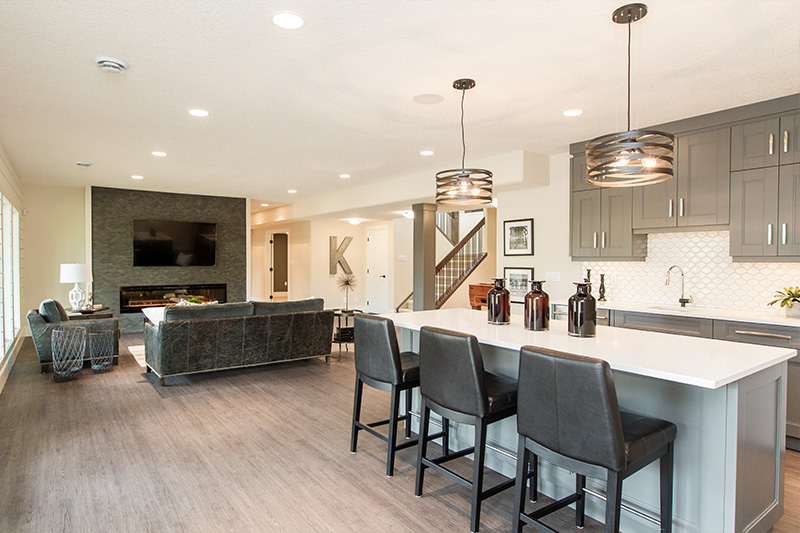 These black metal circular hanging pendants anchor the bar space. They not only add visual interest, they also add a modern touch and an extra layer of lighting.
For more tips on choosing lighting, see Make Lighting a Priority.
Temporary, Easy-to-Change Items
Furniture to Define the Space
Furniture can be used to help with noise reduction in big, open spaces. The size, placement and textures can all affect how sound travels. Choosing soft textiles over materials such as leather, plastic or wood, installing curtains, and placing furniture a few feet away from the walls can all make an open space feel and sound cozier.
In this case the ceiling doesn't define the space, it is done by the furniture. Here, the black light fixtures, beams and ceiling draw your eyes up and add interest.
Decor
Dramatically change the look and feel of your space using decor. These can be easy to change for the season or for just a change in general. Things like curtains, throw pillows, and rugs are less permanent options than mouldings, wallpapers, and flooring. Even changing the "metals" in your home, how about adding gold accessories or a copper bowl?
These toss pillows are speaking to a soft, sophisticated environment. Imagine, with a neutral space like this, you could add colour for summer weather and warmer, textured colours for a cooler season. Many retailers sell cushion covers; just unzip and reuse the pillow form. It's an easy change to make and doesn't require much storage.
Area Rug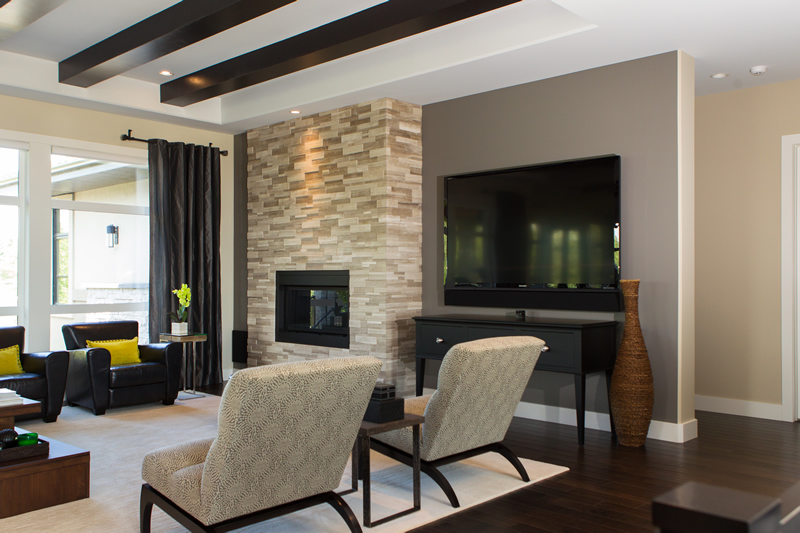 In this space, the ceiling beams add interest overhead however, it is the large area carpet that defines the living room. The high contrast of the cream carpet on a dark hardwood floor also offers a striking contrast to grab your attention.
These are a few ideas to make your open floor plan work for you. Whether it is a small change, or if you are going big, each change will give your home personality. You can use one idea or be bold and try several at the same time. Which ideas do you like the most? Let us know in the comments.