With websites, such as Houzz, to fill your heads with ideas, are they helping or confusing you?
When considering a custom built home, what is your inspiration?
Kitchen
Design style
Color scheme
My suggestion would be to start with function.
[Tweet "Any home that looks beautiful but does not satisfy the needs of its occupants is nothing short of an expensive disappointment. #Yeg #ShPk"]
The "pretty" part of your home will come farther down the road… There are many details to consider prior to aesthetics.
In the previous article, I spoke about choosing your lot. Did you decide to tear down an existing home in a mature neighborhood (infill lot) or are you building in a new subdivision? Your custom home builder will help weigh in on your decision.
As a Custom Home Builder, Do You Want a Bungalow or Two Story?
Let's tackle the first option, an infill lot: you have decided you love a neighborhood and can see yourself and your family building memories on that very street. Prior to even starting a set of blueprints, the decision needs to be made: will it be a bungalow or two story?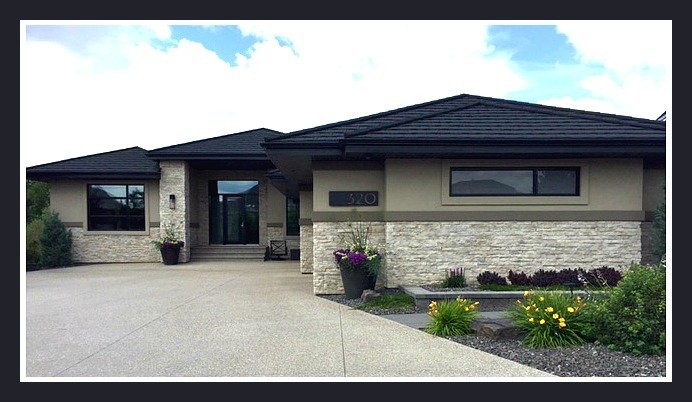 Most infills are on smaller lots as homes used to be much smaller in comparison to what we build today. A bungalow requires a much larger footprint in comparison to a two story, which allows the square footage to be distributed over two floors.
The debate between a bungalow and two story will be based on many factors:
personal preference
your age
number of occupants
occupants' mobility (i.e. more or less stairs)
lot size
cost, etc.
A two story allows for private spaces such as bedrooms to be located one floor away from public spaces such as the kitchen and family room – a great option when having a young family and wanting to keep noise and distractions at bay.
A bungalow can be a costlier option due to a larger foundation and larger roof. However, it allows for simplicity of access from one space to another without the interruption of stairs.
Also, without having a second floor to support, the single-story home has the bonus option of an open floor plan. A bungalow will also allow a family to evolve from young children all the way to retirement.
The second option of a new subdivision will have the same considerations. However, usually the lot size is not an issue as most subdivisions will have an inventory of lot sizes to choose from.
Now that you know your location and, after collaborating with your custom home builder, you are confident in your decision with a bungalow or two-story option… What's next?
Are you getting the hang of decision making? Let us prepare you for the next step of your home building journey. Next, read Part 3 – Layout.