What is the best way to set yourself up for a productive, happy, and clear-minded day?  The answer is simple: a good night's sleep.
You turn in for the night and head to bed.  You have done all the right things: you have shut off all electronic devices earlier in the evening, you have gone through your bed time routine such as changing into sleep wear, brushing your teeth, etc. and are now prepared for a peaceful slumber.  As you approach your bed you are quickly reminded of all the things you have to do tomorrow or things you haven't had a chance to finish… Why?  Your night stand is cluttered; stacked with books, papers, and other chaotic reminders of what you need to do tomorrow.
Sound familiar?  It may seem silly that a piece of furniture that is cluttered can keep you from a good rest, but it can.  What should your nightstand really be used for?  Yes, it is to store some items, however these items need to be conducive to sleeping.  Have a look at the image below of our most recent showhome where we have pared down the nightstands to invite you to relax in this space.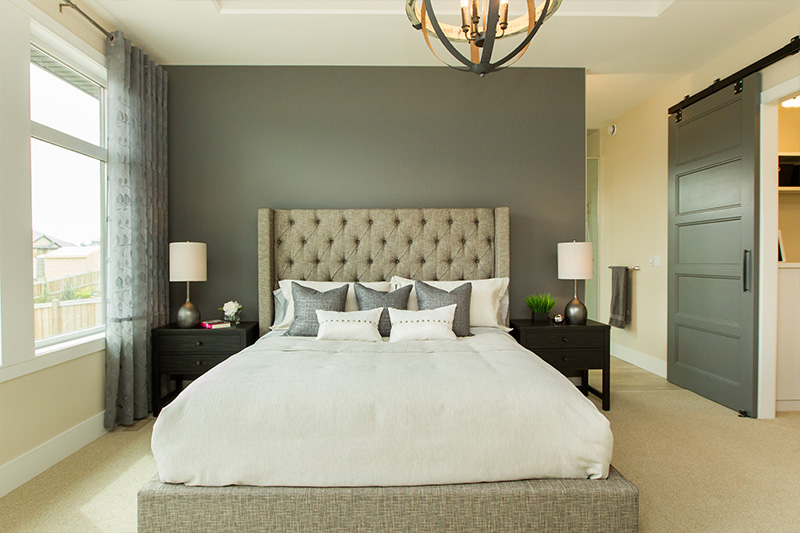 Here are a few quick tips for tackling your cluttered nightstand:
Instead of keeping a stack of books on your nightstand, pare it down to only the one book you are currently reading. If you have five books going at once, perhaps the "How to be a Better…" would be a more productive read during the day when you are alert instead of when you actually need to shut down your thoughts.
A photo that brings you happy thoughts. The image below is of my nightstand. I chose a picture of my boys giving each other a goofy look – it always makes me smile.
The last item is a lamp for purposeful lighting. Basically, just keep it to bedtime essentials.  All other items need to be tucked away allowing for a clutter-free sleep zone.
If you need more storage, maybe it's time to reassess the nightstand you currently have. Instead of the one-drawer unit you currently own, maybe you need a nightstand with more drawers that will allow you to keep items out of sight so you can take back your sleepy haven.
When you reorganize or de-clutter, ask yourself, are all the items on your nightstand meant for the bedroom? Perhaps certain items will be better utilized in your office or elsewhere in your home where you are in a more attentive head space.  It's a win/win situation.
Whichever you decide, the most important message is this…we are more productive, better problem solvers and more creative when we have had enough quality sleep.  Give yourself and the people around you the gift of a better you. You won't regret it.  Sleep tight!